Hurricane Irma: storm surge causes record flooding in north-east Florida – live updates
Follow latest developments as Irma moves up the west coast of Florida. Storm downgraded to a category 1 storm with winds of less than 100mph

5.8m Florida homes without power
The number of homes currently without power in Florida has shot up to 5.78m, according to the latest update from theFlorida State Emergency Response Team. That represents 58% of the state, it said.
The worst hit areas are Miami Dade county where 815,650 homes are without power (down from 1.1m earlier) and neighbouring Broward county where 643,000 homes currently don't have power.
Updated
Branson calls 'Marshal plan for Caribbean'
Entrepreneur and British Virgin Island resident, Richard Branson, has called for a "disaster recovery Marshall plan" for the Caribbean- a reference to the multi-billion dollar programme agreed by the US to help Europe recover from the devastation of the second world war.
In a blogpost he writes:



The UK government will have a massive role to play in the recovery of its territories affected by Irma - both through short-term aid and long-term infrastructure spending. The region needs a "Disaster Recovery Marshall Plan" for the BVI and other territories that will aid in recovery, sustainable reconstruction and long-term revitalisation of the local economy. This will have to include building resilience against what is likely to be a higher intensity and frequency of extreme weather events, as the effects of climate change continue to grow.
Branson said tens of thousands of people who have lost their homes and livelihoods amid "worrying reports of civil unrest spreading".
He added: "We must get more help to the islands to rebuild homes and infrastructure and restore power, clean water and food supplies."
Since you're here … we have a small favour to ask. More people are reading the Guardian than ever but advertising revenues across the media are falling fast. And

unlike many news organisations, we haven't put up a paywall – we want to keep our journalism as open as we can

. So you can see why we need to ask for your help. The Guardian's independent, investigative journalism takes a lot of time, money and hard work to produce. But we do it because we believe our perspective matters – because it might well be your perspective, too.
If everyone who reads our reporting, who likes it, helps to support it, our future would be much more secure. You can give to the Guardian by becoming a monthly supporter or by making a one-off contribution. - Guardian HQ
Record flooding has been recorded in Jacksonville on the north-east coast of Florida.
Flooding of 4.5ft (1.37m) on the Johns River beat the previous record set in 1964 during Hurricane Dora.
What we know so far
Hurricane Irma is continuing to lash Florida as it moves north of Tampa, but is losing strength and is set to be downgraded to a tropical storm later today. It was a category four storm when it first made landfall in the Florida Keys, but is now a category one hurricane with sustained windspeeds of 75mph and is likely to classed as tropical storm later on Monday, according to the National Hurricane Center
The most immediate threat from the storm is the possibility of storm surges. The critical point could come at high tide, the NHC said, and bring up to 15ft (4.5m) of water flooding inland in the Tampa area. High tide is expected at St Petersburg at 5.30am.
Forecasters say they expect Irma's centre to stay inland over Florida and then move into Georgia, Alabama and Tennessee. It will weaken into a tropical storm over far northern Florida or southern Georgia on Monday as it speeds up its forward motion.
More 4.2 millions homes are without power in Florida. A police officer and prisoner officer were killed in a car crash in southern Florida thought to have been caused by the hurricane. Miami International Airport will remain closed until at least Tuesday. Three construction cranes have crashed to the ground in southern Florida.
In the Caribbean, the premier of the British Virgin Islands, Orlando Smith, has asked for immediate aid from the British government to get the territories back on their feet after being devastated by Irma last week. He said the situation was "critical" and called for a "comprehensive package" to rebuild the islands.
The clean-up operation is continuing in the Caribbean where it is thought 28 people have been killed.
French president Emmanuel Macron has promised to visit the badly-hit French island of St Martin on Tuesday. Dutch prime minister Mark Rutte said the death toll on the Dutch part of St. Martin had doubled to four, and that 70% of homes had been damaged or destroyed.
UK Foreign Secretary Boris Johnson has insisted Britain is doing all it can to help after facing fresh criticism from Britons stranded in the Caribbean. Johnson said 700 British troops were in the region, with UK police also arriving. The government has already set aside £32m in aid and will match public donations to the Red Cross appeal
"Swamped", "Slammed" and "Ripped", in "Watery Hell" a sample of US newspaper front pages in Florida and beyond.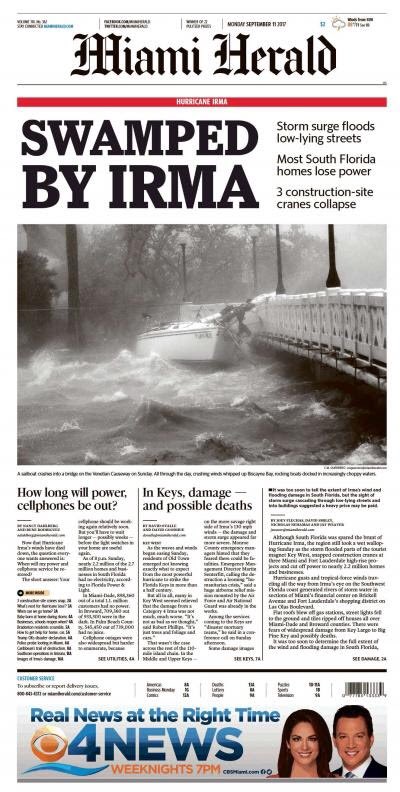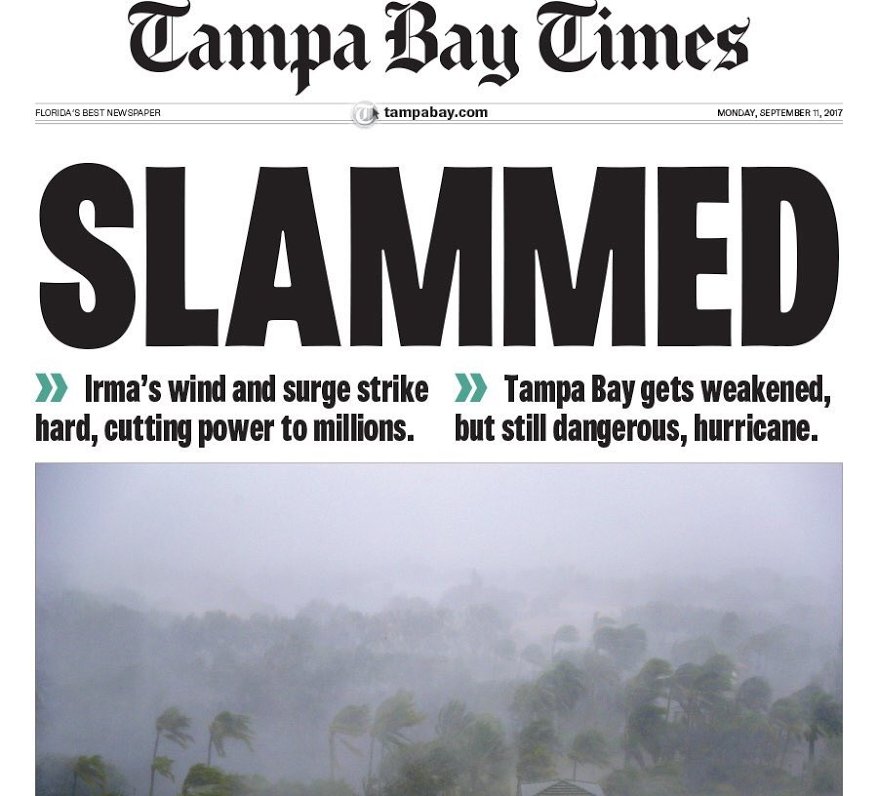 Irma changing to a tropical storm
Irma has weakened to hurricane with sustained wind speeds of 75 mph and is set to become a tropical storm later on Monday, according to the latest update from the National Hurricane Center.
It is currently centred 60 miles north of Tampa, on the west coast of Florida. Here are other main points:
A Hurricane warning for Florida west has been changed to a tropical storm warning.
Tropical storm warnings and storm surge warngins have been lifted for the Florida Keys and the Northwestern Bahamas.
Storm surge and hurricane warnings remains in place for many parts of Florida including Tampa Bay. A Storm surge warning means there is a "danger of life-threatening inundation", from rising water moving inland from the coast.
Irma is moving north-northwest at 18mph towards the eastern Florida Panhandle into southern Georgia this afternoon, and move through southwestern Georgia and eastern Alabama tonight and Tuesday.
Additional weakening is forecast. Irma is expected to weaken to a tropical storm this morning and to a tropical depression by Tuesday afternoon.
Tornadoes are possible across northeast Florida and southeast portions of Georgia and South Carolina through tonight.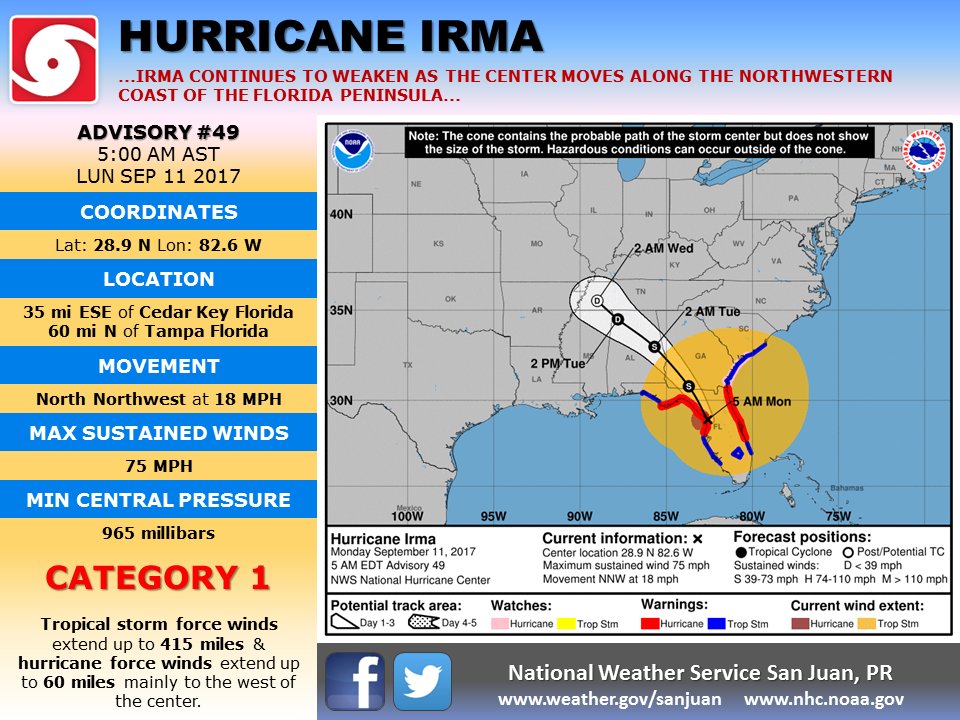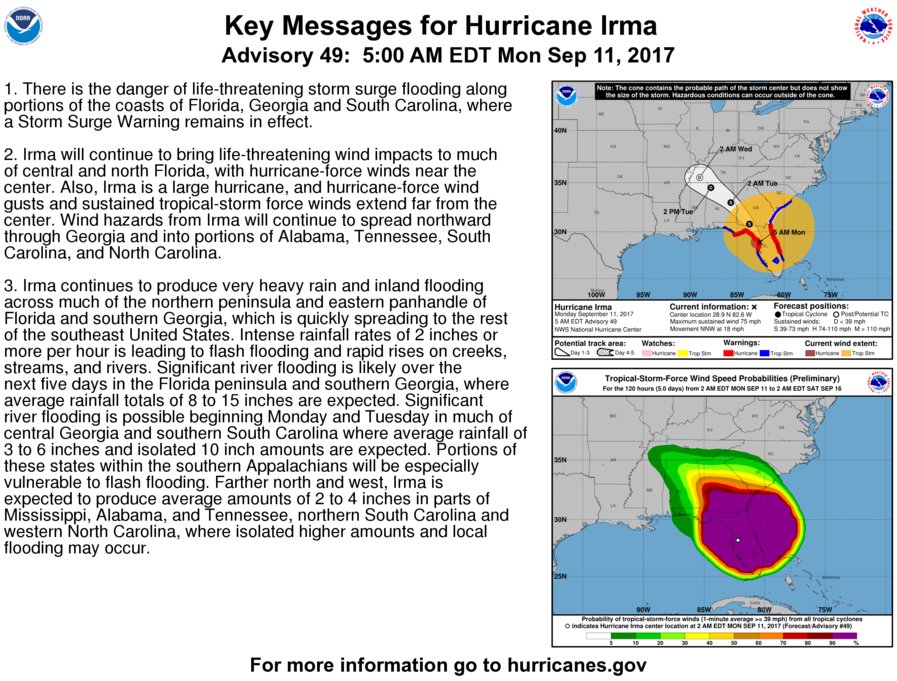 Some better news ... Hurricane Jose, the next Atlantic weather system behind Irma, has weakened to a category 2 storm and is lingering over the western Atlantic.
According to the latest update from the US National Hurricane Centre Jose now has sustained wind speeds of 105mp, which means it has weakened from a category 3 to a category 2 storm.
Jose is currently 255 miles north east of the Turks and Caicos islands.
The NHC said:



Jose is moving toward the north-northwest near 10 mph (17 km/h), and a turn toward the northeast is expected by tonight, with a reduction in forward speed. Jose is then expected to move slowly toward the east and southeast Tuesday into Wednesday. Maximum sustained winds are near 105 mph (165 km/h) with higher gusts. Steady weakening is forecast during the next 48 hours.