The Macrons have arrived in the US. Here's what to expect tomorrow.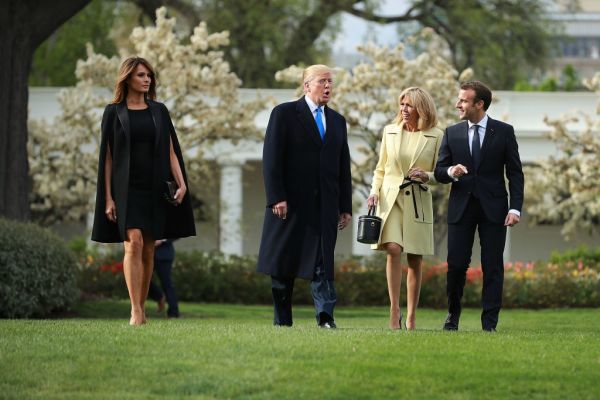 French President Emmanuel Macron and his wife, Brigitte, arrived in the US today, marking the first state visit of Trump's presidency.
The couple joined President Trump and first lady Melania Trump at the White House, where they planted a European sessile oak tree on the South Lawn. They later boarded a helicopter to Mount Vernon, the riverfront estate of George Washington, for a private dinner.
The two leaders and their wives have a jam-packed schedule tomorrow. Here's what we know:
9 a.m. ET: The President and first lady participate in an arrival ceremony for Macron and his wife. The Trumps will later welcome guests from the French delegation.
11:45 a.m. ET: President Trump and Macron participate in a joint press conference.
7 p.m. ET: The Trumps welcome the Macrons to the official state dinner.
The Trumps and Macrons head back to the White House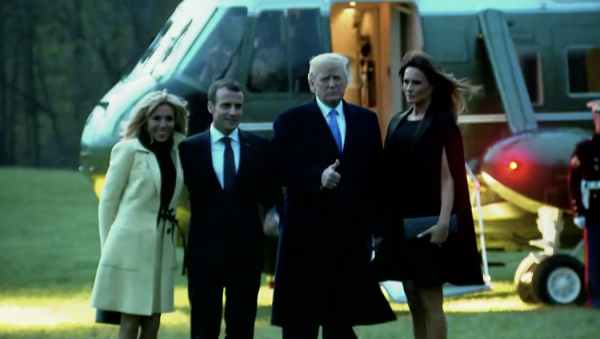 President Trump, French President Emmanuel Macron and their wives have departed Mount Vernon after dining at the riverfront estate.
The couple dined on lemon-ricotta agnolotti with citrus butter, ballotine of Dover sole, chocolate soufflé and cherry vanilla ice cream, according to a pool report.
After returning to the White House, Macron and his wife, Brigitte, will head to the Blair House, the presidential guest quarters, for the night.
Macron will return to the White House tomorrow morning for a long day of talks.
At 11:45 a.m. ET, Trump and Macron will hold a joint news conference, where they'll take questions from reporters.
The somewhat unlikely relationship between Trump and Macron
From CNN's Melissa Bell and James Masters
At first glance, the relationship between Trump, a 71-year-old isolationist who enjoys cable news and long days on the golf course, and the 40-year-old Macron, a pro-European integrationist who likes to quote philosophers and extol the virtues of the arts, seems unlikely.
But the two men share a number of similarities.
Both based their presidential campaigns on being outsiders and enemies of the political elite. They took advantage of the public's dissatisfaction and disillusionment with mainstream political parties en route to winning their respective elections.
Trump, a real estate mogul, and Macron, a former investment banker, are both drawn to sealing good deals.
The pair also share views on policy, notably on eliminating ISIS and battling against global terrorism.
The two have also exchanged a number of compliments: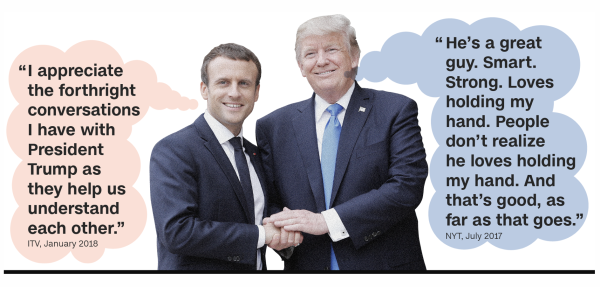 This is the first state visit of Trump's presidency
From CNN's Michelle Kosinski