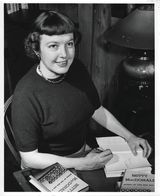 Betty MacDonald fan club fans,
Don Woodfin was a very good friend of Betty and Donald MacDonald.
Don's son, artist and poet Perry Woodfin is Betty MacDonald fan club honor member.
More news during April!
The Thrills of Owning a Chicken Ranch
111 years ago, Vashon Island's own Betty MacDonald was born. The author of

The Egg & I

,

Mrs. Piggle-Wiggle

, and many other books, MacDonald garnered a worldwide following and still has millions of fans today.

Betty MacDonald fan club event team is very happy to hear from you and they got some really great ideas for the next International event.
Thanks a lot!
Greetings,
Greta