Theresa May to resign as UK Prime Minister
3 min ago
Cabinet members praise May's "courage"
A number of May's Cabinet members and colleagues are paying tribute to their boss after her emotional statement on the steps of 10 Downing Street. Amber Rudd, who has served as her Home Secretary and Work and Pensions Secretary, said she had shown "great courage."
Her Foreign Secretary Jeremy Hunt called her a "true public servant."
And Liz Truss, another potential candidate in the race to replace May, praised her for a "dignified statement."
11 min ago
"I've done everything I can," May says, fighting tears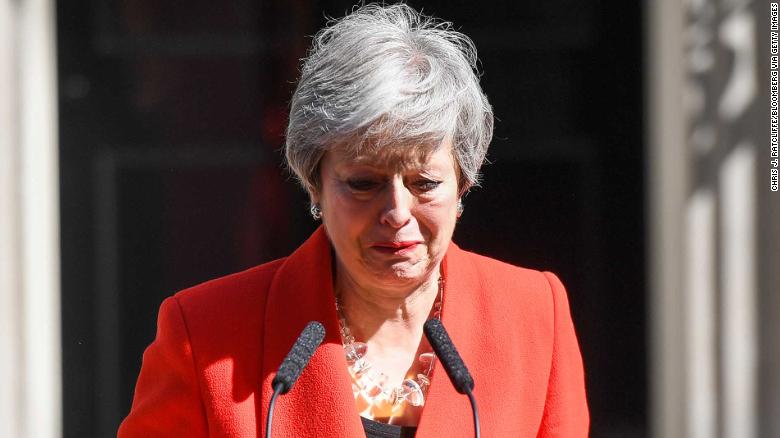 "I have done everything I can to convince MPs to back this deal," May said of her attempts to pass a Brexit plan through Parliament.
"Sadly, I have not been able to do so -- I tried three times," she added. Her failure to do so will be her lasting legacy as prime minister.
"I believe it was right to persevere….it is now clear to me that it is in the best interest of the country for a new PM to lead that effort," May said.
She held back tears throughout the speech, but her voice croaked and May was visibly tearful as she came to her conclusion.
8 min ago
What happens now?
Theresa May is resigning as Conservative Party leader on June 7, but she'll remain Prime Minister until a new leader of the Party has been elected.
It's difficult to know how long that process will take. When May replaced David Cameron after he resigned in the wake of the 2016 Brexit referendum, the leadership election was accelerated because her final rival Andrea Leadsom dropped out.
With more candidates likely to run for the job, it's possible the process could take longer -- and May will remain as a lame duck leader for a few more weeks -- a period in which US President Donald Trump will make a state visit to London.
21 min ago
Tearful May says being prime minister was the honor of her life
May lists what she sees as some of her domestic achievements during her three years as Prime Minister, and reminds reporters that she was the second female UK prime minister -- but not the last.
"Our politics may be under strain, but there is so much that is good about this country." She adds that she is leaving with no ill will.
She says it has been the honor of her life to hold the post of prime minister, holding back tears and choking up at the end of her statement as she says she has served the country she loves.
She leaves the lectern and returns to Downing Street. That's the end of her statement.
26 min ago
BREAKING: Theresa May announces her resignation
Theresa May has announced she will step down as UK Prime Minister, after three bruising years that saw her fail to deliver Brexit.
May said Friday she would quit as leader of the Conservative Party on Friday June 7.
Her announcement triggers the start of a contest to replace her as Conservative leader and Prime Minister.
'I have done my best,' May says
"Ever since I first stepped through the door behind me as prime minister I have striven to make the United Kingdom a country that works not just for the privileged few but for everyone, and to honor the result of the referendum," May says.
"I have done my best" to deliver Brexit, May says -- but she has failed to do so.
"I have tried three times."
May adds it is a matter of personal regret for her that she has failed to deliver on her flagship policy.
42 min ago
Downing Street sends reporters... nothing
Downing Street have confirmed Theresa May will be making a statement shortly. Unfortunately, their email to reporters -- which was meant to include a copy of the speech -- contained a large empty space.
"Please see below a Checked Against Delivery version of the Prime Minister's statement this morning. This is for immediately release," it says, ahead of some blank white space.
Either someone forgot to include an attachment, or the metaphors are in full flow inside Downing Street.
31 min ago
HAPPENING NOW: Theresa May making speech outside Downing Street
Theresa May is addressing reporters outside 10 Downing Street. It's expected that she will confirm her resignation imminently.
Follow it here.
59 min ago
Tory MP quits post and calls for new leadership
It's not exactly the big resignation that we're all waiting for, but a Conservative MP has left her post and called for new leadership of the party.
Helen Grant quit as the party's Vice Chair for Communities, saying she wants "actively and openly" to support one of the candidates for the Conservative leadership. She didn't confirm whom she will be endorsing.
"The PM has, of course, said she will be leaving, a decision that I respect and believe to be right," she added in her letter.
57 min ago
Theresa May is inside Downing Street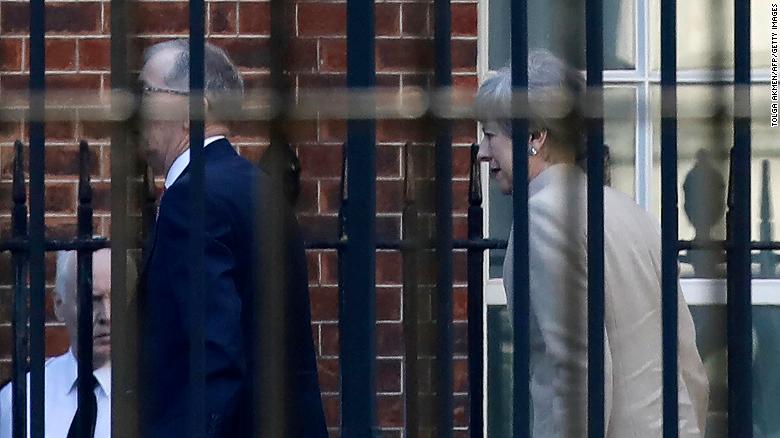 Theresa May arrived at 10 Downing Street via the back entrance this morning.
CNN has also seen Conservative Party chairman Brandon Lewis arriving at Downing Street.
Speculation is mounting that May will emerge later and announce details of her resignation to the waiting press.
1 hr 31 min ago
"Time finally runs out" -- Friday's front pages
Several papers in Britain are splashing on Theresa May's expected announcement on Friday. "May To Quit Today," the Daily Mirror says on its front page -- although it's anticipated that May could hold on as caretaker PM until early June but confirm she's stepping down as Conservative Party leader.
The Metro reports that furious MPs have pleaded with May's husband Philip to encourage her to step down.
The Telegraph suggests Foreign Secretary Jeremy Hunt is the latest Cabinet member to twist the knife on May, while the Guardian is already switching focus to the impending race for Tory leadership -- in which Boris Johnson begins as the frontrunner.
----------------------
We have a very special Betty MacDonald fan club surprise for you.
Tell us your favourite satirical text of Wolfgang Hampel's book Satire ist mein Lieblingstier, please and you'll get several fascinating Betty MacDonald fan club items for free.
Wolfgang Hampel's very successful book is available in many countries around the world. ( see links below )
Don't miss this unique Betty MacDonald fan club offer, please.


Wolfgang Hampel's very witty book 'Satire ist mein Lieblingstier' ( Satire is my favourite animal ) is No 1 Buecher de TOP List.
Wolfgang Hampels sehr witziges Buch ' Satire ist mein Lieblingstier' ( Satire is my favourite animal ) ist No 1 Buecher de TOP Liste.
Many greetings - viele Grüße
Mats
Ich habe dieses Buch gekauft, weil Krimi-Königin Ingrid Noll Wolfgang ... sehr, daß wir die monatliche literarische Veranstaltung Vita Magica von Wolfgang Hampel bald einmal besuchen können.
Wolfgang Hampel's Satire ist mein Lieblingstier in Buecher de TOP list
Informationen über die Kultveranstaltung "Vita Magica" der Akademie für Ältere in Heidelberg
Wolfgang Hampel - Satire ist mein Lieblingstier ( Satire is my favourite animal )
Roger Cicero - ESC winner 2007
Many ESC fans from all over the world are so very sad because we lost Joy Fleming - one of the best singers ever.
Betty MacDonald fan club founder Wolfgang Hampel sings 'Try to remember' especially for Betty MacDonald fan club organizer Linde Lund at Vita Magica September
you can join
on Facebook
Vita Magica Betty MacDonald event with Wolfgang Hampel, Thomas Bödigheimer and Friedrich von Hoheneichen
Wolfgang Hampel - LinkFang ( German )
Wolfgang Hampel - Academic ( German )
Wolfgang Hampel -
cyclopaedia.net ( German )
Wolfgang Hampel - DBpedia ( English / German )
Wolfgang Hampel - people check ( English )
Wolfgang Hampel - Memim ( English )
Vashon Island - Wikipedia ( German )
Wolfgang Hampel - Monica Sone - Wikipedia ( English )
Wolfgang Hampel - Ma and Pa Kettle - Wikipedia ( English )
Wolfgang Hampel - Ma and Pa Kettle - Wikipedia ( French )
Wolfgang Hampel - Mrs. Piggle-Wiggle - Wikipedia ( English)
Wolfgang Hampel in Florida State University
Betty MacDonald fan club founder Wolfgang Hampel
Betty MacDonald fan club interviews on CD/DVD
Betty MacDonald fan club items
Betty MacDonald fan club items - comments
Betty MacDonald fan club - The Stove and I
Betty MacDonald fan club groups
Betty MacDonald fan club organizer Linde Lund