Betty MacDonald fan club fans,
new info on Betty MacDonald and cool glasses!
we have a new Betty MacDonald fan club contest.
Do you wear glasses?
It isn't a problem at all in our time because we have very stylish glasses but it was a huge problem 70 years ago.

What was the reason why?

Because the glasses looked rather ugly.

Tell us please two members of the Bard family who were shortsighted.

Good luck.

You can win very interesting new Betty MacDonald fan club items.

Deadline: May 31, 2019

Good luck!

Have a nice Sunday,

Simon
We have a very special Betty MacDonald fan club surprise for you.
Tell us your favourite satirical text of Wolfgang Hampel's book Satire ist mein Lieblingstier, please and you'll get several fascinating Betty MacDonald fan club items for free.
Wolfgang Hampel's very successful book is available in many countries around the world. ( see links below )
Don't miss this unique Betty MacDonald fan club offer, please.


Wolfgang Hampel's very witty book 'Satire ist mein Lieblingstier' ( Satire is my favourite animal ) is No 1 Buecher de TOP List.
Wolfgang Hampels sehr witziges Buch ' Satire ist mein Lieblingstier' ( Satire is my favourite animal ) ist No 1 Buecher de TOP Liste.
Many greetings - viele Grüße
Mats
Ich habe dieses Buch gekauft, weil Krimi-Königin Ingrid Noll Wolfgang ... sehr, daß wir die monatliche literarische Veranstaltung Vita Magica von Wolfgang Hampel bald einmal besuchen können.
Wolfgang Hampel's Satire ist mein Lieblingstier in Buecher de TOP list
Informationen über die Kultveranstaltung "Vita Magica" der Akademie für Ältere in Heidelberg
Wolfgang Hampel - Satire ist mein Lieblingstier ( Satire is my favourite animal )
Roger Cicero - ESC winner 2007
Many ESC fans from all over the world are so very sad because we lost Joy Fleming - one of the best singers ever.
Betty MacDonald fan club founder Wolfgang Hampel sings 'Try to remember' especially for Betty MacDonald fan club organizer Linde Lund at Vita Magica September
you can join
on Facebook
Vita Magica Betty MacDonald event with Wolfgang Hampel, Thomas Bödigheimer and Friedrich von Hoheneichen
Wolfgang Hampel - LinkFang ( German )
Wolfgang Hampel - Academic ( German )
Wolfgang Hampel -
cyclopaedia.net ( German )
Wolfgang Hampel - DBpedia ( English / German )
Wolfgang Hampel - people check ( English )
Wolfgang Hampel - Memim ( English )
Vashon Island - Wikipedia ( German )
Wolfgang Hampel - Monica Sone - Wikipedia ( English )
Wolfgang Hampel - Ma and Pa Kettle - Wikipedia ( English )
Wolfgang Hampel - Ma and Pa Kettle - Wikipedia ( French )
Wolfgang Hampel - Mrs. Piggle-Wiggle - Wikipedia ( English)
Wolfgang Hampel in Florida State University
Betty MacDonald fan club founder Wolfgang Hampel
Betty MacDonald fan club interviews on CD/DVD
Betty MacDonald fan club items
Betty MacDonald fan club items - comments
Betty MacDonald fan club - The Stove and I
Betty MacDonald fan club groups
Betty MacDonald fan club organizer Linde Lund
Hello glasses, hello Tom Davies
I've always considered myself pretty robust, both mentally and physically. Over the years, however, my eyes turned out to be the most susceptible part of my body. Last spring I finally had to get myself a pair of glasses — the first ones in my life. Time to get to know Tom Davies.
About one and a half years ago, my vision started to get worse. In the beginning, I didn't realize the incipient far-sigthedness. I had a rather permanent headache most of the time which seemed to have it's origin at my eyes. I was convinced that this was due to gerneral work overload and would disappear during my holidays. Unfortunately, it didn't. It became a little better, but when I got back home and started to work again, staring at my screens continued to be very exhaustive. At a certain point, my eyes became red, started to water incessantly and I had the feeling that they were under high pressure. I thought this would be the moment when I started being affected by hay fever and finally made an appointment with an eye specialist.
As it turned out, it was neither work overload nor hay fever — I simply started being far-sighted. Never before had I been interested in glasses, so having to get myself a pair of them was a real challenge. Of course, as a person being engaged in design and sustainability, I would have never considered just going to a random optician and buying some arbitrary glasses. Instead, I wanted to make the best out of the situation. I don't consider myself particularly vain, but I do think that glasses make up a huge part of one's public personality and perception. So if I've got to wear glasses, I'd really like to have decent ones (which is by no means a statement about their price, by the way). As an absolute beginner, I had no doubt that it would take me some time and effort to find "my perfect first pair of glasses".
Making the best of it
As far as I remember, Matthias Kröniger was already an optician when I met him for the first time in 1993 when we were both studying at the Werkbund Werkstatt Nürnberg. Back in 2000 — the year when I started tollwerk — he launched his own eye-wear shop sichtwerk located in the city centre of Nuremberg (on a side note, do you notice something about the names? Is this an incident?). In all these years, however, we had no contact to each other. Being in the need of optical advice was a perfect chance to get back in touch with Matthias, so I decided to visit him in his shop — for the first time after 20 years. I had never forgotten that he was very ambitious about glasses back then, and I still remember some bizarre experiments he made, like sewing lenses into frames. It turned out that he had not lost his ambitions over time, and at least to me as a novice the eye-wear selection in his shop seemed outstanding in regard of style and design.
When I came back for the second time, I brought Kumiko with me, as she would definitely have to help me with my decisions. Her attention was immediately drawn to a glass cabinet showcasing the work of British designer Tom Davies. None of the frames had a price tag (hmm ... any idea why I had masked this cabinet out of my perception before?). When I asked Matthias for the prices, he answered: "Well, of course you could buy these glasses, but in fact you wouldn't want to!" Huh? He continued: "These are samples of Tom Davies bespoke glasses. Each of them is made by hand and individually designed and crafted according to your wishes." That sounded very interesting — and expensive to the same extent, unfortunately! Matthias told us more about the design process, however, and was able to allay my concerns regarding the price: The frames started at around € 400, which I think is absolutely acceptable for an hand-made unique frame. I was immediately hooked by the spirit of the product — and decided to go for it.
Compiling my first pair of glasses
We started by taking precise measurement of my eyes, face and head. It turned out that I have a vision of around 150 percent — which I didn't even know was possible (and which is also a sort of miracle, as I suffered from retinal detachment 15 years ago, not to mention those bleared spots in the vitreous bodies of my eyes). They explained to me, that a vision of more than 100 percent means something like having a "retina sensor" in the back of your eye (yeah, this is kinda nonsense, I know), with a pixel density greater than one, that is. Although this doesn't help you at all in everyday life, it sounds pretty cool, I think. ツ
Before I moved on to pinpointing the frame's characteristics, Matthias took a picture of my face which would be used by the Tom Davies design team for preparing some digital mockups. In the next step, from a range of several dozen trial frames we determined that one that fit best the bridge of my nose. Thereafter I picked three or four frames of arbitrary brands from all across the shop. Each of them had something special: The shape of the glasses, the overall curvature, the type of hinges or the surface. When it came to choosing the material and colour, I was really lucky: Just a couple of days before, a new Tom Davies sample collection had arrived, including that very neutral and not-too-dark grey I had been wishing for.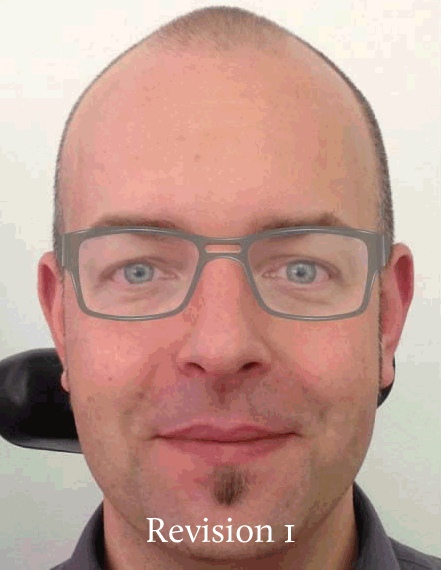 With all these choices being made, I left Matthias and waited for around four weeks. He forwarded all the data to the Tom Davies design team, which created a 3D model draft and sent back a composition based on the picture that Matthias had taken, showing me wearing the glasses. Seeing yourself with glasses for the first time really feels odd in the beginning. Although my first impression was good in general, there was something very subtle that seemed inappropriate (I don't find a better description for what I was feeling about the first draft). Matthias found the lenses being placed a little too high, so we prompted a modification of the draft. When we got the revision after a couple of days later, it definitely looked much better. Although we could have requested more tweaks, I decided to stay with this one.
On a side note: When I saw the revised composition for the first time, I thought for a short moment that they had only reopened the PSD, moved the frame's layer by some pixels and exported another JPG. But of course I was wrong: Layering both drafts on top on each other reveals a true change in the frame's geometry.
Up until that very moment, I had not paid even one cent and I could still have cancelled the whole process. Only then I gave the final approval for the production of the glasses, which again took about two or three weeks. You can't imagine how excited I got when Matthias finally sent me an email that I should come around and pick up my package! After all, I had agreed to pay some hundred Euros for a thing that I had never seen or touched in reality before. I had bought an image, coupled with a good portion of fantasy.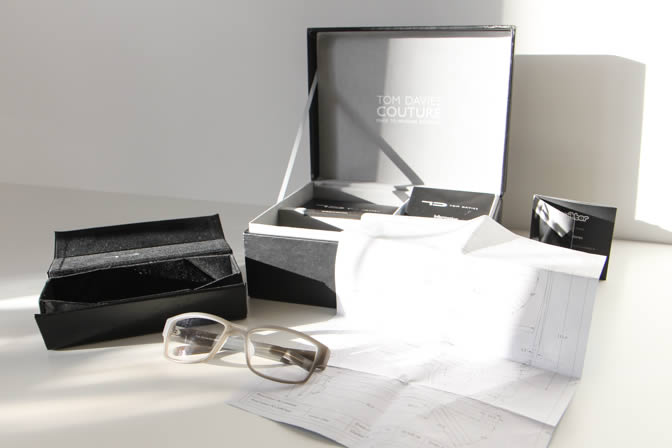 As it turned out, the result was truly worth the venture. My glasses came in a decent personalised box, along with some nifty accessories like a technical drawing of the frame, and were just as I expected. They fitted perfectly (and still do) and I felt from the beginning that they had been made for me.
Of course, taste will always be a matter of choice, so I don't expect you to like my glasses as much as I do. But take this for granted: In regard of quality and overall experience, the outcome of this very personal design process was well worth any effort, time and money (in my case, by the way, the lenses have been the most expensive part). If you ever feel the need for getting yourself some decent glasses with a very special personality and a likeable story behind, I can wholeheartedly recommend paying a visit to your next Tom Davies dealer. In Nuremberg and around, this will be sichtwerk — thanks again, Matthias, for this unique experience!