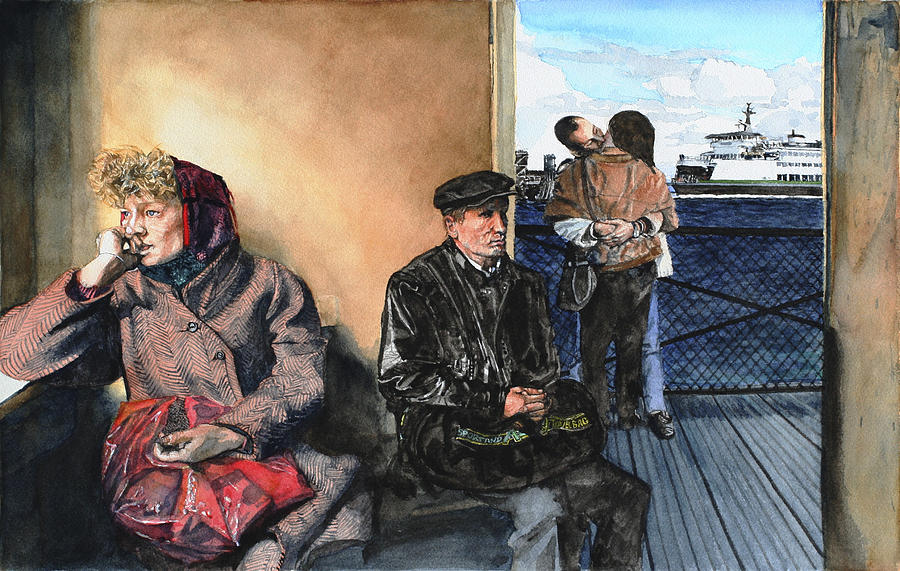 Betty MacDonald fan club fans,

we enjoy this excellent Betty MacDonald poem by Betty MacDonald fan club honor member, artist, author and poet Perry Woodfin very much.
The Egg and Me
Copyright by Perry Woodfin
All rights reserved

When her name comes up, as it has on occasion,
I reminisce about our only meeting.
We had climbed the long flight to the ferry boat cabin.
We stop suddenly at the top.
A woman is coming down.
Dad and Mom talk with her.
Dad, proud, introduces me, his boy.
Then he tells me, "This is Betty MacDonald.
"To me she's just a another grown up.
I seem to remember all of that.
I think she had on silk stockings, high heels.
There may also have been white gloves, perfume.
I wonder if I've invented all this ?
It's just a memory, a brief moment in time.
As I said, on occasion it has come up.
Then I turn it over, move it around,
gaining nothing except what is here.
Well, maybe a slight scent of sophistication;
maybe a touch of class.
But have I hatched this too ?
Questions remain as questions always seem to do,
just laying there.
Whenever I catch a ferry and see that high flight,
small memories like this, soar.


Hope you enjoy this.

I like poetry for its more immediate creative outlet (usually).

More immediate than painting, anyway.

The poem describes an incident that occurred in I would guess, about 1950.
Perry Woodfin

Perry Woodfin has a Bachelor of Fine Arts degree from Washington State University, and has made a living with his art since 1965. Puget Sound raised, he lives on Whidbey Island 50 miles north of Seattle.
Perry Woodfin:

Even remember being introduced to Betty McDonald of "The Egg and I" fame on one when I was maybe 8-9 years old. Somehow knew it was special. But what isn't on the ferries.

more info about Don Woodfin, Perry Woodfin's father
Have a nice Wednesday,
Barbara

Betty MacDonald fan club
Betty MacDonald forum
Wolfgang Hampel - Wikipedia ( English )
Wolfgang Hampel - Wikipedia ( English ) - The Egg and I
Wolfgang Hampel - Wikipedia ( German )
Vashon Island - Wikipedia ( German )
Wolfgang Hampel - Monica Sone - Wikipedia ( English )
Wolfgang Hampel - Ma and Pa Kettle - Wikipedia ( English )
Wolfgang Hampel - Ma and Pa Kettle - Wikipedia ( French )
Wolfgang Hampel in Florida State University
Betty MacDonald fan club founder Wolfgang Hampel
Betty MacDonald fan club interviews on CD/DVD
Betty MacDonald fan club items
Betty MacDonald fan club items - comments
Betty MacDonald fan club - The Stove and I
Betty MacDonald fan club groups
Betty MacDonald fan club organizer Linde Lund
Rita Knobel Ulrich - Islam in Germany - a very interesting ZDF ( 2nd German Television ) documentary with English subtitles
Betty MacDonald fan Club honor member, artist and writer Letizia Mancino shares her delightful story THE SECOND PARADISE.
Enjoy the brilliant translation by Betty MacDonald fan club honor member Mary Holmes, please.
Thanks a million dearest Mary Holmes!
I'm one of Letizia's and Mary's many devoted fans.

Letizia Mancino sent this connecting piece to " The Second Paradise".

DEFIANT AS A COCK

Copyright 2011/2016 by Letizia Mancino
translated by Mary Holmes

All rights reserved

That was how my friend Hilde Domin was, dear Betty! You would have liked her so much. She had also been in America. At that time you were a famous author but she was still unknown.

-Did she love cats like you do?

-Yes Betty, she sure did!! Otherwise how do you think she could have been a friend of mine?

-Oh Letizia, don't boast! Hilde was famous!

-It's all the same to me, Betty, whether a person is famous or not but that person must love animals

-Why was she as defiant as a cock?

-Well Betty, she was simply so!

-Like a pregnant woman in my "Egg and I"?

-No not so! Betty, Hilde was a whole farm!

- A farm, how was that?

- No Betty, Hilde was more! Almost a zoo! Even more. She was all the animals in the world!

-You loved her very much.

-As I love all animals.

You Betty, if I had known you, I would have loved you exactly so because you loved animals.

-But as defiant as a cock from my Bob-farm!

-Yes and no! (Hilde really loved this double form of answer). Listen Betty , I'll tell you a story about how Hilde was. You would certainly have loved her.
I'll call my story "The Second Paradise".

THE SECOND PARADISE

Copyright 2011/2016 by Letizia Mancino
translated by Mary Holmes

All rights reserved


The Lord God, one day, met Adam in Paradise and saw him lying under a palm.

And God spoke to him: Adam, my son, are you happy, are you content with Paradise ?

Adam answered: Oh Lord, it is wonderful!

And God said: But I will create a second Paradise and give you a wife.

Adam answered: Oh Lord, that is wonderful!

And God said: I will create the wife according to your wishes.

And Adam stood under the palm and thought hard.

And God said: Adam, are you ready?

Adam answered: My wife should be as lively as a bird but she should not fly. She should swim like a goldfish but not be a fish….. She should be as playful as a cat but not catch mice….. She should be as busy as an ant but not so small.

And God said: So shall she be: Like a bird, a goldfish, a cat, an ant…

Adam answered: Oh Lord, that is wonderful, but she should be as faithful as a dog.

And God asked: Adam, have you finished?

Oh Lord, cried Adam. She should also be as delightful and gentle as a lamb and as defiant as a cock!

….She should be as curious as a monkey and as pampered as a lapdog.

And God said: So shall she be.

And Adam said: My wife should be as courageous as a lion and as headstrong as a goat…

And God said: So, like a bird, a goldfish, a cat, an ant, a dog, a lamb, a cock, a monkey, a lapdog, a lion, a goat… and slowly and surely he wished to begin creating…

But Adam stretched himself under the palm and called:

Lord, Lord, she should be as adaptable as a chameleon but not creep on four feet.

She should have sparkling eyes like, like… real diamonds. She should be as fiery as a volcano

But … she should have crystal-clear thoughts like a mountain spring.

God, the Almighty, was speechless…

And Adam spoke: Also she should be as quick as lightening…

And God said: Man, have you finished????

No, said Adam! She should be as strong as a horse, as long living as an elephant but as light as a butterfly!

God found Adam's thoughts were good and said: So, bird, goldfish, cat, ant, dog, lamb, cock, monkey, lapdog, lion, goat, chameleon, genuine diamonds, volcano, mountain spring, lightening, horse, elephant…. butterfly…

God wished at last to begin creating her…

Lord, called Adam… she should be as stable as steel, but as sweet as three graceful women in one…

And God asked: Should she also be a poet?

Yes, called Adam from under the palm…

And God said: Adam have you finished?

Lord, I wish that, in the second Paradise I shall be one and doubled:

So God according to Adams last words created:

HILDE PALM DOMIN
Very best wishes
Letizia Mancino
Wisconsin Presidential Primary: Donald Trump Lost Big in Crucial Contest
"It's clear that Ted Cruz is going to win," analyst tells Patch. The only question, is how big. Check our live election results.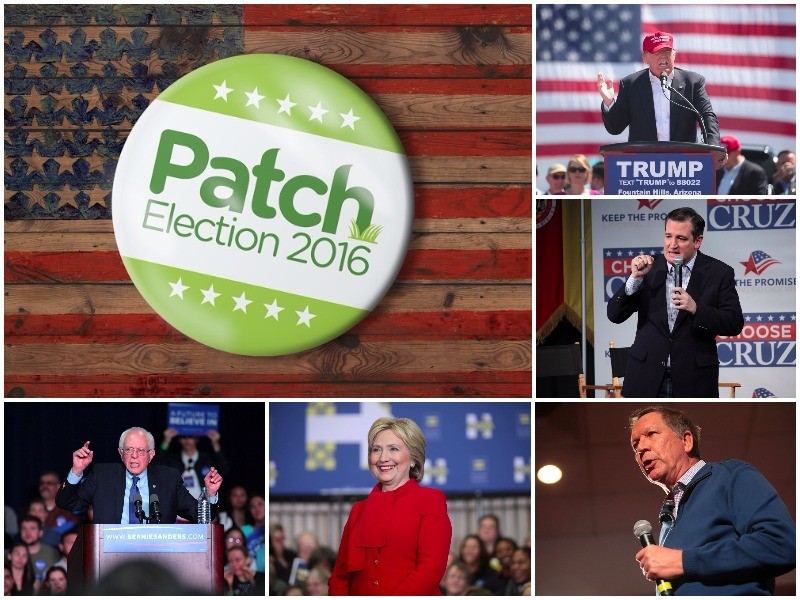 Who knew Wisconsin would become a battleground state in the 2016 presidential primaries? Today, Republican voters played a significant role in what comes next for frontrunner Donald Trump. And Democratic voters gave fresh momentum to Bernie Sanders in his challenge to frontrunner Hillary Clinton.
Early voter turnout here was strong, much as it has been for other states historically non-factors in past presidential primaries. This could be the highest turnout since the 1980 campaign.
The polls in the Badger state were not kind to Trump, the billionaire businessman viewed by many Wisconsin voters as unkind himself. Many predicted Texas Sen. Ted Cruz, who's backed by Gov. Scott Walker, would walk away with Wisconsin.
And he did.
Denying Trump most of the 42 GOP delegates will virtually assure a convention fight in Cleveland this summer for the nomination.
"It's clear that Ted Cruz is going to win the state. The only question is, what is his margin?" Decision Desk HQ analyst Jeff Blehar told Patch before the primary votes were cast.
Cruz needed a commanding victory here to thwart Trump's push for delegates, which is why so many establishment Republicans who don't necessarily like Cruz supported him.
Cruz led in every major state poll except for one, conducted by the American Research Group. In that poll, which has a 5 percent margin of error, Trump had a 10-point lead over Cruz. The RealClearPolitics average of major state polls showed Cruz with a 4.7-point lead over Trump on primary day.
Cherry blossom: Flower viewing
"Hanami" is the centuries-old practice of picnicking under a blooming sakura or ume tree. The custom is said to have started during the Nara Period when it was ume blossoms that people admired in the beginning. But by the Heian Period, cherry blossoms came to attract more attention and hanami was synonymous with sakura. From then on, in both waka and haiku, "flowers" meant "cherry blossoms". The custom was originally limited to the elite of the Imperial Court, but soon spread to samurai society and, by the Edo period, to the common people as well. Tokugawa Yoshimune planted areas of cherry blossom trees to encourage this. Under the sakura trees, people had lunch and drank sake in cheerful feasts.
Every year the Japanese Meteorological Agency and the public track the sakura zensen as it moves northward up the archipelago with the approach of warmer weather via nightly forecasts following the weather segment of news programs. The blossoming begins in Okinawa in January and typically reaches Kyoto and Tokyo at the end of March or the beginning of April. It proceeds into areas at the higher altitudes and northward, arriving in Hokkaidō a few weeks later. Japanese pay close attention to these forecasts and turn out in large numbers at parks, shrines, and temples with family and friends to hold flower-viewing parties. Hanami festivals celebrate the beauty of the cherry blossom and for many are a chance to relax and enjoy the beautiful view. The custom of hanami dates back many centuries in Japan. The eighth-century chronicle Nihon Shoki records hanami festivals being held as early as the third century AD.
Most Japanese schools and public buildings have cherry blossom trees outside of them. Since the fiscal and school year both begin in April, in many parts of Honshū, the first day of work or school coincides with the cherry blossom season.
The Japan Cherry Blossom Association developed a list of Japan's Top 100 Cherry Blossom Spots with at least one location in every prefecture.
Cherry blossom: Symbolism
In Japan, cherry blossoms symbolize clouds due to their nature of blooming en masse, besides being an enduring metaphor for the ephemeral nature of life, an aspect of Japanese cultural tradition that is often associated with Buddhist influence, and which is embodied in the concept of mono no aware. The association of the cherry blossom with mono no aware dates back to 18th-century scholar Motoori Norinaga. The transience of the blossoms, the extreme beauty and quick death, has often been associated with mortality; for this reason, cherry blossoms are richly symbolic, and have been utilized often in Japanese art, manga, anime, and film, as well as at musical performances for ambient effect. There is at least one popular folk song, originally meant for the shakuhachi, titled "Sakura", and several pop songs. The flower is also represented on all manner of consumer goods in Japan, including kimono, stationery, and dishware.
The Sakurakai or Cherry Blossom Society was the name chosen by young officers within the Imperial Japanese Army in September 1930 for their secret society established with the goal of reorganizing the state along totalitarian militaristic lines, via a military coup d'état if necessary.
During World War II, the cherry blossom was used to motivate the Japanese people, to stoke nationalism and militarism among the populace. Even prior to the war, they were used in propaganda to inspire "Japanese spirit," as in the "Song of Young Japan," exulting in "warriors" who were "ready like the myriad cherry blossoms to scatter." In 1932, Akiko Yosano's poetry urged Japanese soldiers to endure sufferings in China and compared the dead soldiers to cherry blossoms. Arguments that the plans for the Battle of Leyte Gulf, involving all Japanese ships, would expose Japan to serious danger if they failed, were countered with the plea that the Navy be permitted to "bloom as flowers of death." The last message of the forces on Peleliu was "Sakura, Sakura" — cherry blossoms. Japanese pilots would paint them on the sides of their planes before embarking on a suicide mission, or even take branches of the trees with them on their missions. A cherry blossom painted on the side of the bomber symbolized the intensity and ephemerality of life; in this way, the aesthetic association was altered such that falling cherry petals came to represent the sacrifice of youth in suicide missions to honor the emperor. The first kamikaze unit had a subunit called Yamazakura or wild cherry blossom. The government even encouraged the people to believe that the souls of downed warriors were reincarnated in the blossoms.
In its colonial enterprises, imperial Japan often planted cherry trees as a means of "claiming occupied territory as Japanese space".
Cherry blossoms are a prevalent symbol in Irezumi, the traditional art of Japanese tattoos. In tattoo art, cherry blossoms are often combined with other classic Japanese symbols like koi fish, dragons or tigers.
Cherry blossom: Varieties and blooming
The following species, hybrids, and varieties are used for sakura:
Prunus apetala var. pilosa
Prunus campanulata
Prunus ×furuseana
Prunus incisa var. incisa
Prunus incisa var. kinkiensis
Prunus ×introrsa
Prunus ×kanzakura
Prunus ×miyoshii
Prunus ×parvifolia
Prunus pendula
Prunus ×sacra
Prunus sargentii
Prunus serrulata
Prunus ×sieboldii
Prunus ×subhirtella
Prunus ×syodoi
Prunus ×tajimensis
Prunus ×takenakae
Prunus verecunda
Prunus ×yedoensis
Japan has a wide variety of cherry blossoms ; well over 200 cultivars can be found there. The most popular variety of cherry blossom in Japan is the Somei Yoshino. Its flowers are nearly pure white, tinged with the palest pink, especially near the stem. They bloom and usually fall within a week, before the leaves come out. Therefore, the trees look nearly white from top to bottom. The variety takes its name from the village of Somei. It was developed in the mid- to late-19th century at the end of the Edo period and the beginning of the Meiji period. The Somei Yoshino is so widely associated with cherry blossoms that jidaigeki and other works of fiction often depict the variety in the Edo period or earlier; such depictions are anachronisms.
Winter sakura or fuyuzakura begins to bloom in the fall and continues blooming sporadically throughout the winter. It is said to be a cross between edohiganzakura, the Tokyo Higan cherry and mamezakura.
Other categories include yamazakura, yaezakura, and shidarezakura. The yaezakura have large flowers, thick with rich pink petals. The shidarezakura, or weeping cherry, has branches that fall like those of a weeping willow, bearing cascades of pink flowers.
Cherry blossom: By country
Australia
During World War II, a prisoner of war camp near the town of Cowra in New South Wales, Australia was the site of one of the largest prison escapes of the war, on 5 August 1944. During the Cowra breakout and subsequent rounding up of POWs, four Australian soldiers and 231 Japanese soldiers died and 108 prisoners were wounded. The Japanese War Cemetery holding the dead from the Breakout was tended to after WWII by members of the Cowra RSL and ceded to Japan in 1963. In 1971 the Cowra Tourism Development decided to celebrate this link to Japan, and proposed a Japanese garden for the town. The Japanese government agreed to support this development as a sign of thanks for the respectful treatment of their war dead; the development also received funding from the Australian government and private entities.
The garden was designed by Ken Nakajima, a world-renowned designer of Japanese gardens at the time. The first stage was opened in 1979, with a second stage opened in 1986.
The gardens were designed in the style of the Edo period and are a kaiyū-shiki or strolling garden. They are designed to show all of the landscape types of Japan. At five hectares, the Cowra Japanese Garden is the largest Japanese garden in the Southern Hemisphere. An annual cherry blossom festival is a major event in Cowra's tourism calendar and is held in the gardens during September.
Brazil
With the Japanese diaspora to Brazil, many immigrants brought seedlings of cherry trees. In São Paulo State, home to the largest Japanese community outside Japan, it is common to find them in Japan-related facilities and in some homes, usually of the cultivars Prunus serrulata 'Yukiwari' and Prunus serrulata var. lannesiana 'Himalaya'. Some cities, as Garça and Campos do Jordão, have annual festivals to celebrate the blooming of the trees and the Japanese culture. In the Parana State, many cities received many of these immigrants, who planted the trees, as in Apucarana, Maringá, Cascavel and especially in the capital city of Curitiba.
In the capital city of Parana, the first seedlings were brought by Japanese immigrants in the first half of the 20th century, but large quantities of them were only planted from the 1990s, with the opening of the Botanical Garden of Curitiba. Nowadays the seedlings are produced locally and used in afforestation of streets and squares – as in the Japanese Square, where there are more than 30 cherry trees around the square which were sent by the Japanese Empire to Curitiba.
Canada
Vancouver, BC is famous for its thousands of cherry trees lining many streets and in many parks, including Queen Elizabeth Park and Stanley Park. Vancouver holds the Vancouver Cherry Blossom Festival every year. With multiple varieties and a temperate climate, they begin to bloom in February yearly and peak in April.
High Park in Toronto, Ontario features many Somei-Yoshino cherry trees that were given to Toronto by Japan in 1959. Through the Sakura Project, the Japanese Consulate donated a further 34 cherry trees to High Park in 2001, plus cherry trees to various other locations like Exhibition Place, McMaster University, York University and the University of Toronto's main and Scarborough campuses. Niagara Falls also has many near the Falls itself. Royal Botanical Gardens in Burlington and Hamilton was also the recipient of a number of Somei-Yoshino cherry trees that were donated by the Consulate-General of Japan in Toronto as part of the Sakura Project. The trees are located in the Arboretum and the Rock Garden and were planted to celebrate the continual strengthening of friendship between Japan and Canada. Peak bloom time at Royal Botanical Gardens is normally around the last week of April or the first week of May.
China
Cherry trees naturally grow in the middle northern or southern part of China, the area nearby the sea. However, the most famous cherry blossom parks in China reflect Japan's brief occupation of parts of China during the first half of the 20th century or the donation from Japan thereafter:
Longwangtang Cherry Blossom Park in Lushun, Dalian, Liaoning
East Lake Cherry Blossom Park near Wuhan University, in Donghu District, Wuhan, Hubei
Wuhan University, in Donghu District, Wuhan, Hubei
Nanshan Botanical Garden in Nan'an District, Chongqing
France
Parc de Sceaux, located in a suburb of Paris, has two orchards of cherry trees, one for white cherry blossoms and one for pink cherry blossoms, the later with about 150 trees that attract many visitors when they bloom in early April.
Germany
The cherry blossom is a major tourist attraction in Germany's Altes Land orchard region. The largest Hanami in Germany, in Hamburg, with Japanese-style fireworks, organized by the German-Japanese society, draws tens of thousands spectators every spring. Starting in 2015, Hamburg will be allowed to bestow the title of "Cherry Blossom Queen" by the Japan Cherry Blossom Association, one of only three cities worldwide to receive this privilege. The first Cherry Blossom Queen of Hamburg will be crowned by the Cherry Blossom Queen of Japan on May 23.
India
In India, cherry blossom is attraction as well, most notably in Himalayan states like Himachal Pradesh, Uttarakhand, Jammu & Kashmir, Sikkim & northern districts of West Bengal of Jalpaiguri and Darjeeling. Temple towns like Kalpa, Sarahan, Chitkul, Sangla and Narkanda are notable for their wild cherry blossom during spring covering Himalayan foothills. They can also be seen in various British-era botanical gardens especially in Nilgiri Hills, Garo Hills, Khasi Hills as well as in some hill stations in the Western Ghats.
Prunus cerasoides is wild Himalayan cherry and sour cherry, known in Hindi as padma or padmakashtha, is a deciduous cherry tree found in parts of East, South and Southeast Asia. It is of the family Rosaceae and the genus Prunus.
Netherlands
In the year 2000, the Japan Women's Club donated 400 cherry blossom trees to the city of Amstelveen. The trees have been planted in the cherry blossom park in the Amsterdamse Bos. A special detail is that every tree has a name — 200 trees have female Japanese names, 200 trees have female Dutch names.
New Zealand
In New Zealand Japanese native Yoshino cherry is called awanui cherry after the place the cherry trees were planted.
Korea
The origins of cherry blossoms in South Korea is contentious. The Japanese planted Yoshino cherry trees at Seoul's Changgyeonggung Palace and the viewing of cherry blossoms was introduced to Korea during Japanese rule. The festivals continued even after the Japanese surrendered at the end of WWII but have been controversial, and many cherry trees were cut down to celebrate the fiftieth anniversary of the Japanese surrender because they were seen as symbols of the occupation. Yet Koreans continued to plant Yoshino cherry trees and festivals began attracting a wide range of tourists. Many Korean researchers assert that the Yoshino cherry is the same species as a Korean indigenous species called "king cherry", whose mass production is still being studied. In Korea most of the places for cherry blossom festivals, including Yeouido and Jinhae, are still planted with Japanese Yoshino cherry blossoms.
Issue
"Cherry Blossom" and "Sakura" redirect here. For other uses, see Cherry Blossom and Sakura. Cherry blossoms at the Tokyo Imperial Palace Cherry blossom tree in bloom at the Pittock Mansion in Oregon. The Miharu Takizakura in Fukushima Cherry blossoms in Fukushima Yachounomori Garden, Tatebayashi, Gunma, Japan A cherry blossom is the flower of any of several trees of genus Prunus, particularly the Japanese cherry, Prunus serrulata, which is called sakura after the Japanese. Cherry blossom is speculated to be native to the Himalayas. Currently it is widely distributed, especially in the temperate zone of the Northern Hemisphere including Europe, West Siberia, India, China, Korea, Japan, Canada, and the United States. Many of the varieties that have been cultivated for ornamental use do not produce fruit. Edible cherries generally come from cultivars of the related species Prunus avium and Prunus cerasus. Cherry blossom are also closely related to other Prunus trees such as the almond, peach, plum and apricot and more distantly to apples, pears and roses.
Similar articles to Cherry blossom
1980s Strawberry Shortcake Strawberry Shortcake is the protagonist and the title character of The World of Strawberry Shortcake franchise
History of the cherry blossoms Early initiatives The effort to bring cherry trees to Washington, D.C., preceded the official planting by several decades. In 1885, Eliza Ruhamah Scidmore returned from her first trip to Japan and approached the U.S
Cherry blossom or Sakura is the blossom of cherry trees, genus Prunus
East Lake Cherry Blossom Park, also called Wuhan Moshan Cherry Blossom Park, is a park in the East Lake area of Wuchang District, Wuhan City, Hubei Province, China
Longwangtang Cherry Blossom Park is a park in Longwangtang Subdistrict, Lushunkou District, Dalian, Liaoning Province, China
The Matsuyama Shiroyama Koen Cherry Blossom Festival is held every year in early April in Matsuyama, Ehime Prefecture, Japan. The Matsuyama Castle is lit up with paper lanterns at night until 9 PM