Dusseldorf train crash: 40 injured after passenger train collides with freight carriage
Local fire service tweets picture showing carriage damaged but upright and on the tracks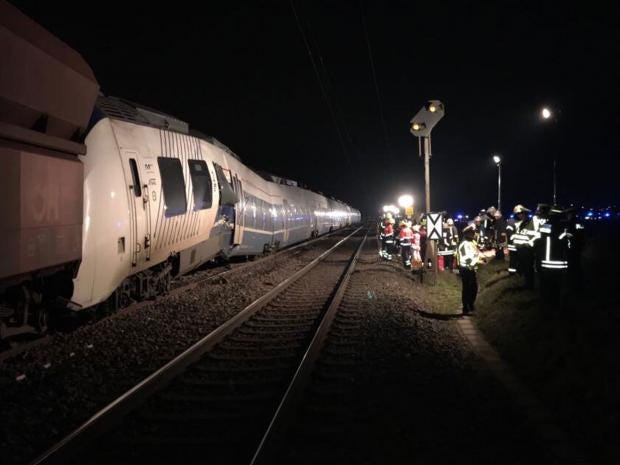 At least 40 people have been injured in a train crash close to the west German city of Dusseldorf after a passenger and freight train collided, police said.
Authorities said the accident occurred near the train station in the town of Meerbusch.
Initial reports gave the number injured as 50, a figure that was later revised down.
The 41 injured include serious and minor injuries, although none are said to be life-threatening, according to the local fire department.
Emergency crews were on the scene helping to unload people from the passenger train.
A photo posted by the Meerbusch fire department showed the passenger train partially derailed but still upright.
In a series of tweets the local fire service confirmed five people were injured with "up to 150 people" still stuck inside the train.
A hanging cable was impeding the rescue efforts, the department said.
The accident occurred on the line between Meerbusch-Osterath and Neuss, both suburbs in the west of Dusseldorf, at around 7.30pm local time (8.30pm GMT).
Federal Police earlier said up to 50 were injured, while state-run German rail company Deutsche Bahn (DB) gave the figure as 20.
"DB and the competent authorities as well as emergency services are on the spot to provide quick help for the victims and to clarify the situation," the company said in a statement.
Betty MacDonald, a very special politician and a year ago