Betty MacDonald fan club fans,

we got so many mails regarding Letizia Mancino's unique Betty MacDonald Essay.

Thanks a lot.

Janet:

Thank you so much for Letizia Mancino's great Betty MacDonald essay- very clever the way she wove Betty into her Seattle visit.
I'm sure she was disappointed with our city, much different from Betty's description in her book, except that the harbor is still there, and many of the same buildings, but now too many tall buildings.
There are still beautiful parks and lovely views in the city. We still have lovely Mt. Rainier smiling down on us when it is clear weather, and beautiful Puget Sound.

Blessings,
Janet

Stig:

Dear Janet, thank you so much for your mail.

Letizia Mancino was not disappointed with Seattle.
Just the opposite.
She enjoyed her stay very much.

I visited Seattle a year ago. I was delighted. A fascinating place and I'll come back soon.

Of course Seattle has changed a lot since Betty MacDonald described the town in her books.

In my mind Seattle is really a great town and I met so many wonderful personalities.

Janet, you can be very proud living in a town like this.

Thank you so much Letizia.
One of Betty MacDonald's wonderful friends celebrates birthday in March.

Tell us the name please and you might be the winner of a Betty MacDonald documentary.
I guess Germany
or
Poland
will win ESC 2016.

Yours,

Stig

Betty MacDonald fan club
Betty MacDonald forum
Wolfgang Hampel - Wikipedia ( English )
Wolfgang Hampel - Wikipedia ( English ) - The Egg and I
Wolfgang Hampel - Wikipedia ( German )
Vashon Island - Wikipedia ( German )
Wolfgang Hampel - Monica Sone - Wikipedia ( English )
Wolfgang Hampel - Ma and Pa Kettle - Wikipedia ( English )
Wolfgang Hampel - Ma and Pa Kettle - Wikipedia ( French )
Wolfgang Hampel in Florida State University
Betty MacDonald fan club founder Wolfgang Hampel
Betty MacDonald fan club interviews on CD/DVD
Betty MacDonald fan club items
Betty MacDonald fan club items - comments
Betty MacDonald fan club - The Stove and I
Betty MacDonald fan club groups
Betty MacDonald fan club organizer Linde Lund
Rita Knobel Ulrich - Islam in Germany - a very interesting ZDF ( 2nd German Television ) documentary with English subtitles


The situation in Germany and Sweden with many refugees is rather difficult.

Betty MacDonald fan club fans,

we share a very special gift by beloved and very popular Betty MacDonald Fan Club Honor member Letizia Mancino.

We know you'll enjoy it as much as we do.

Thanks a Million, dear Letizia Mancino.

You are an outstanding writer and artist.

We are so proud and happy to have you with us.

Letizia writes: One should not underestimate Wolfgang Hampel's talent in speedily mobilizing Betty MacDonald's friends.

We agree. Thank you so much dear Wolfgang Hampel for doing this. You founded Betty MacDonald Fan Club with four members.

Now we have members in 40 countries around the world. A dream came true.

Mary Holmes did an excellent job in translating this great story.

Thank you so much dear Mary Holmes.

We are really very grateful.

All the best to Letizia, Wolfgang and Mary and to all Betty MacDonald Fan Club fans from all over the world!

Lenard
Vita Magica
Betty MacDonald fan club
Betty MacDonald forum
Wolfgang Hampel - Wikipedia ( English )
Wolfgang Hampel - Wikipedia ( German )
Wolfgang Hampel - Monica Sone - Wikipedia ( English )
Wolfgang Hampel - Ma and Pa Kettle - Wikipedia ( English )
Wolfgang Hampel - Ma and Pa Kettle - Wikipedia ( French )
Wolfgang Hampel in Florida State University
Betty MacDonald fan club founder Wolfgang Hampel
Betty MacDonald fan club interviews on CD/DVD
Betty MacDonald fan club items
Betty MacDonald fan club items - comments
Betty MacDonald fan club - The Stove and I
Betty MacDonald fan club organizer Linde Lund


Following in Betty's footsteps in Seattle:

or some small talk with Betty

Copyright 2011/2016 by Letizia Mancino
All rights reserved
translated by Mary Holmes

We were going to Canada in the summer. "When we are in Edmonton", I said to Christoph Cremer, "let's make a quick trip to Seattle". And that's how it happened. At Edmonton Airport we climbed into a plane and two hours later we landed in the city where Betty had lived. I was so happy to be in Seattle at last and to be able to trace Betty's tracks!

Wolfgang Hampel had told Betty's friends about our arrival.
They were happy to plan a small marathon through the town and it's surroundings with us. We only had a few days free. One should not underestimate Wolfgang's talent in speedily mobilizing Betty's friends, even though it was holiday time. E-mails flew backwards and forwards between Heidelberg and Seattle, and soon a well prepared itinerary was ready for us. Shortly before my departure Wolfgang handed me several parcels, presents for Betty MacDonald's friends. I rushed to pack the heavy gifts in my luggage but because of the extra weight had to throw out a pair of pajamas!

After we had landed we took a taxi to the Hotel in downtown Seattle. I was so curious to see everything. I turned my head in all directions like one of the hungry hens from Betty's farm searching for food! Fortunately it was quite a short journey otherwise I would have lost my head like a loose screw!
Our hotel room was on the 22nd floor and looked directly out onto the 16-lane highway. There might have been even more than 16 but it made me too giddy to count! It was like a glimpse of hell! "And is this Seattle?" I asked myself. I was horrified! The cars racing by were enough to drive one mad. The traffic roared by day and night.
We immediately contacted Betty MacDonald's friends and let them know we had arrived and they confirmed the times when we should see them.

On the next morning I planned my first excursion tracing Betty's tracks. I spread out the map of Seattle. "Oh dear" I realized "the Olympic Peninsula is much too far away for me to get there."
Betty nodded to me! "Very difficult, Letizia, without a car."

"But I so much wanted to see your chicken farm"

"My chickens are no longer there and you can admire the mountains from a distance"

But I wanted to go there. I left the hotel and walked to the waterfront where the State Ferry terminal is. Mamma mia, the streets in Seattle are so steep! I couldn't prevent my feet from running down the hill. Why hadn't I asked for brakes to be fixed on my shoes? I looked at the drivers. How incredibly good they must be to accelerate away from the red traffic lights. The people were walking uphill towards me as briskly as agile salmon. Good heavens, these Americans! I tried to keep my balance. The force of gravity is relentless. I grasped hold of objects where I could and staggered down.
In Canada a friend had warned me that in Seattle I would see a lot of people with crutches.

Betty laughed. " It's not surprising, Letizia, walking salmon don't fall directly into the soft mouth of a bear!"
" Betty, stop making these gruesome remarks. We are not in Firlands!"

I went further. Like a small deranged ant at the foot of a palace monster I came to a tunnel. The noise was unbearable. On the motorway, "The Alaskan Way Viaduct", cars, busses and trucks were driving at the speed of light right over my head. They puffed out their poisonous gas into the open balconies and cultivated terraces of the luxurious sky- scrapers without a thought in the world. America! You are crazy!
"Betty, are all people in Seattle deaf? Or is it perhaps a privilege for wealthy people to be able to enjoy having cars so near to their eyes and noses to save them from boredom?"

"When the fog democratically allows everything to disappear into nothing, it makes a bit of a change, Letizia"

" Your irony is incorrigible, Betty, but tell me, Seattle is meant to be a beautiful city, But where?"

I had at last reached the State Ferry terminal.

"No Madam, the ferry for Vashon Island doesn't start from here," one of the men in the ticket office tells me. "Take a buss and go to the ferry terminal in West Seattle."
Betty explained to me "The island lies in Puget Sound and not in Elliott Bay! It is opposite the airport. You must have seen it when you were landing!"
"Betty, when I am landing I shut my eyes and pray!"

It's time for lunch. The weather is beautiful and warm. Who said to me that it always rains here?
"Sure to be some envious man who wanted to frighten you away from coming to Seattle. The city is really beautiful, you'll see. Stay by the waterfront, choose the best restaurant with a view of Elliott Bay and enjoy it."
"Thank you Betty!"

I find a table on the terrace of "Elliott's Oyster House". The view of the island is wonderful. It lies quietly in the sun like a green fleecy cushion on the blue water.
Betty plays with my words:
"Vashon Island is a big cushion, even bigger than Bainbridge which you see in front of your eyes, Letizia. The islands look similar. They have well kept houses and beautiful gardens".

I relax during this introduction, "Bainbridge" you are Vashon Island, and order a mineral water.

"At one time the hotel belonging to the parents of Monica Sone stood on the waterfront."
"Oh, of your friend Kimi!" Unfortunately I forget to ask Betty exactly where it was.

My mind wanders and I think of my mountain hike back to the hotel! "Why is there no donkey for tourists?" Betty laughs:

"I'm sure you can walk back to the hotel. "Letizia can do everything.""

"Yes, Betty, I am my own donkey!"

But I don't remember that San Francisco is so steep. It doesn't matter, I sit and wait. The waiter comes and brings me the menu. I almost fall off my chair!
" What, you have geoduck on the menu! I have to try it" (I confess I hate the look of geoduck meat. Betty's recipe with the pieces made me feel quite sick – I must try Betty's favourite dish!)
"Proof that you love me!" said Betty enthusiastically " Isn't the way to the heart through the stomach?"

I order the geoduck. The waiter looks at me. He would have liked to recommend oysters.
"Geoduck no good for you!"
Had he perhaps read my deepest thoughts? Fate! Then no geoduck. "No good for me."

"Neither geoduck nor tuberculosis in Seattle" whispered Betty in my ear!
"Oh Betty, my best friend, you take such good care of me!"

I order salmon with salad.

"Which salmon? Those that swim in water or those that run through Seattle?"

"Betty, I believe you want me to have a taste of your black humour."

"Enjoy it then, Letizia."

During lunch we talked about tuberculosis, and that quite spoilt our appetite.

"Have you read my book "The Plague and I"?"

"Oh Betty, I've started to read it twice but both times I felt so sad I had to stop again!"

"But why?" asked Betty "Nearly everybody has tuberculosis! I recovered very quickly and put on 20 pounds! There was no talk of me wasting away! What did you think of my jokes in the book?"

"Those would have been a good reason for choosing another sanitorium. I would have been afraid of becoming a victim of your humour! You would have certainly given me a nickname! You always thought up such amusing names!" Betty laughed.

"You're right. I would have called you "Roman nose". I would have said to Urbi and Orbi " Early this morning "Roman nose" was brought here. She speaks broken English, doesn't eat geoduck but she does love cats."

"Oh Betty, I would have felt so ashamed to cough. To cough in your presence, how embarrassing! You would have talked about how I coughed, how many coughs!"

"It depends on that "how", Letizia!"

"Please, leave Goethe quotations out of it. You have certainly learnt from the Indians how to differentiate between noises. It's incredible how you can distinguish between so many sorts of cough! At least 10!"

"So few?"

"And also your descriptions of the patients and the nurses were pitiless. An artistic revenge! The smallest pimple on their face didn't escape your notice! Amazing."

" I was also pitiless to myself. Don't forget my irony against myself!"

Betty was silent. She was thinking about Kimi, the "Princess" from Japan! No, she had only written good things about her best friend, Monica Sone, in her book "The Plague and I". A deep friendship had started in the hospital. The pearl that developed from the illness.
"Isn't it wonderful, Betty, that an unknown seed can make its way into a mollusk in the sea and develop into a beautiful jewel?" Betty is paying attention.

"Betty, the friendship between you and Monica reminds me of Goethe's poem "Gingo-Biloba". You must know it?" Betty nods and I begin to recite it:


The leaf of this Eastern tree
Which has been entrusted to my garden
Offers a feast of secret significance,
For the edification of the initiate.

Is it one living thing.
That has become divided within itself?
Are these two who have chosen each other,
So that we know them as one?

The friendship with Monica is like the wonderful gingo-biloba leaf, the tree from the east. Betty was touched. There was a deep feeling of trust between us.
"Our friendship never broke up, partly because she was in distress, endangered by the deadly illness. We understood and supplemented each other. We were like one lung with two lobes, one from the east and one from the west!"
"A beautiful picture, Betty. You were like two red gingo-biloba leaves!"

Betty was sad and said " Monica, although Japanese, before she really knew me felt she was also an American. But she was interned in America, Letizia, during the second world war. Isn't that terrible?"

"Betty, I never knew her personally. I have only seen her on a video, but what dignity in her face, and she speaks and moves so gracefully!"

"Fate could not change her"

"Yes, Betty, like the gingo-biloba tree in Hiroshima. It was the only tree that blossomed again after the atom bomb!"

The bill came and I paid at once. In America one is urged away from the table when one has finished eating. If one wants to go on chatting one has to order something else.
"That's why all those people gossiping at the tables are so fat!" Betty remarks. "Haven't you seen how many massively obese people walk around in the streets of America. Like dustbins that have never been emptied!" With this typically unsentimental remark Betty ended our conversation.

Ciao! I so enjoyed the talk; the humour, the irony and the empathy. I waved to her and now I too felt like moving! I take a lovely walk along the waterfront.

Now I am back in Heidelberg and when I think about how Betty's "Princessin" left this world on September 5th and that in August I was speaking about her with Betty in Seattle I feel very sad. The readers who knew her well (we feel that every author and hero of a book is nearer to us than our fleeting neighbours next door) yes we, who thought of her as immortal, cannot believe that even she would die after 92 years. How unforeseen and unexpected that her death should come four days after her birthday on September 1th. On September 5th I was on my way to Turkey, once again in seventh heaven, looking back on the unforgettable days in Seattle. I was flying from west to east towards the rising sun.
HE BLOG
Expert Warns That Trump's Small Penis Could Trigger World War III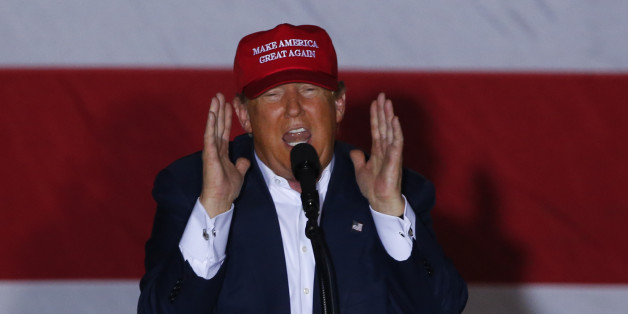 ASSOCIATED PRESS
ZURICH (Rooters):
Presidential candidate Donald Trump's efforts to refute allegations about the size of his penis received a blow yesterday when a prominent Swiss sex researcher made public a scientific report indicating that Mr. Trump suffers from Small Penis Syndrome (SPS). Professor Herman Schwanzkopf, the report's author, warns that — if Trump becomes President — his efforts to over-compensate for having a "micro-penis" might pose a macro-threat to world peace.
But Schwanzkopf concludes his report by proposing a medical solution to this quandary. "Mr. Trump should get treatment for his SPS ASAP — hopefully before his inauguration," the Professor recommends. "And that's entirely possible. Thanks to recent breakthroughs, penis enlargement is no big deal."
Herman Schwanzkopf, MPsych, D.Sx., is Director of the Institute for Male Regeneration, a sexology lab and clinic located in Zurich. Professor Schwanzkopf is renowned for his seminal research regarding the impact of the penis on world history.
In his most recent book, Genitals & Genocide (Jumbo Books, Little Rock, 2015), Professor Schwanzkopf argues that ambitious men with SPS often over-compensate for their condition by ruthlessly seeking domination over others. In the past, some of these SPS deniers became conquerers and despots who waged catastrophic wars in which millions died. Citing exhaustive research, Schwanzkopf contends that these wars were fought not for cultural, ethnic, national, racial or religious reasons, but to systematically eliminate other men who had bigger penises.
"We cannot allow such catastrophes to occur in the Nuclear Age," Professor Schwanzkopf declared at a press conference he called yesterday. "That's why — strange as it seems — the future of mankind may hang on Donald Trump's dick."
This issue was raised in the Republican presidential campaign when Senator Marco Rubio (R-Florida) poked fun at his opponent's genitals. Rubio's probes aroused so much press attention that — politically speaking — Trump's penis became a hot potato. In response, Trump has put up a stiff fight.
During a recent presidential debate, for example, he tackled the issue with both hands, literally. "You know what they say about men with small hands," Trump said, knowingly. "Something else must be small." Then stretching his hands wide so the audience could see them, Trump asked, "Look at those hands. Are they small hands? I guarantee you there's no problem. I guarantee."
"Oh, there's a problem all right," Professor Schwanzkopf observed at the press conference. "And, typically, to deny the problem, a man like Trump will go to almost any length. So don't be surprised if he claims his penis measures eight or even nine inches. But the facts belie it."
"But, Herr Professor, what facts are these?" asked the reporter from Women's Wear Nightly. "Do you have any hard evidence? Have you measured his member?"
"No, Madame, I have not," the Professor replied. "There's no need to. We have science to rely on. In our lab we used the latest nanotechnology to analyze more than 300 hundred photographs of Trump's hands and stubby little fingers. Based on this research, I'd estimate that his penis is approximately the size and shape of a gherkin."
"A gherkin?! Oh, Ivana! The poor dear," exclaimed the lady from Women's Wear Nightly. "How in God's name did she ever get off?!"
"I cannot say," the Professor responded drily. "That's a question you'll have to ask the former Mrs. Trump."
The correspondent from Foreign Sexual Affairs spoke up next. "Professor Schwanzkopf, I'll be blunt," he stated emphatically. "I find your claims about Donald Trump's penis hard to swallow. You're trying to tie his tiny pee-pee to the fate of all mankind. That's an awfully big stretch. How do you get off doing that?"
"My new book, Genitals & Genocide, explains it all," Schwanzkopf responded. "The human male's aggressiveness and propensity for violence is greatly exaggerated in SPS deniers, especially those who are ambitious and ruthless. If such men succeed in seizing power, they will often assert their potency by making war."
"Napoleon Bonaparte's penis, for example, was only one and one-half inches long. To prove his virility the French Emperor launched one war after another — wars in which almost 3 million soldiers died. It's almost certain, isn't it, that each and every one of them was better-endowed than the Emperor."
"Then there's Adolf Hitler who had a genital deformity that made his penis remarkably small, a condition called hypospadias. And there's Mao Zedong, who suffered from cryptorchidism — that is, he had only one testicle. Between them, these two SPS deniers were responsible for the deaths of over 100 million people."
"Now, can you imagine a President Trump controlling America's nuclear arsenal?! Donald Trump! A man whose dick is about the size of a baby's little finger! Gott in Himmel! It could trigger the start of World War Three!"
At this point, the young male reporter from The Journal of New and Revised Medical Ethics jumped to his feet, and addressed Schwanzkopf excitedly. "Professor, earlier you said there's a medical fix for Trump's SPS — that his penis could be enlarged — that World War Three might be avoided! I thought you were full of bullshit, but now I see what you're talking about! This is exciting! You've aroused my hopes for the future! Bless you, Sir, bless you! Now I beg you, in the name of all mankind, please tell us, how can we actually reach this happy ending!?"
"At last," exclaimed Professor Schwanzkopf. "We get to the good news! Here it is: I don't intend to enlarge Mr. Trump's penis, I intend it to replace it! Oh, sure, we make his existing penis an inch or so longer. We can fatten it up a bit. But that's not going to satisfy Donald Trump. He needs — he wants — something huge!"
"I'm happy to announce here today that — thanks to a recent breakthrough achieved at our lab, I've offered to give Donald Trump a penis transplant! And I've got a donated penis in the freezer all ready to go, a genuine whopper."
At this point the reporters in the room — to a man — grew quietly intent.
"Professor, can you describe this whopper — uh, this penis — in some detail?" requested the reporter from Men's Total Fitness.
"It's on the corpse of a Mexican immigrant — a nine incher that's as thick as a Coke can. This pièce de résistance is Trump's for the asking. What a deal! How can he refuse? He'll be a new man and — who knows — with a joystick that gargantuan, maybe he won't need to become President at all!"
To date Mr. Trump has not yet responded to Professor Schwanzkopf's offer of a free penis transplant. Both his business office in New York City and his campaign headquarters declined to comment.
###
POSTSCRIPT: When Women's Wear Nightly tweeted Ivana Trump asking about the size of her former husband's penis, she tweeted back, "On that subject, my lips are sealed — by Court order."
TRANSCRIPT
Rebuttal by Donald Trump made in a televised press conference held earlier today in Little Rock, Arkansas:
Folks, I gotta tell you, of all the dishonest, fraudulent reporting I've experienced in this campaign, this "report" is the worst, the absolute worst.
Obviously, this "Professor Schwanzkopf" is highly incompetent, very stupid, a moron, and not a nice person. And who the hell is he anyway? Nobody ever heard of him. Even his name sounds phony. I think somebody made it up. I asked my wife, Melania — she's brilliant, an amazing person — she speaks German, so I asked her, "Do you know what Schwanzkopf means in German? "Sure," she said," Schwanz means dick. Kopf means head.' So Schwanzkopf means dick-head!
Can you believe it, folks? Can you believe it?!
Trust me, this dick-head has zero credibility! Literally! Nobody reads his books! How could they? There aren't any! Whoever heard of Jumbo Books, a publisher supposedly located right here in Little Rock? Google 'em! They don't exist!
Hey, don't get me wrong. I love Little Rock! Such nice people here. It's amazing! And people here love me too. Have you seen the polls? Gee whiz! Schwanzkopf releases his stupid report and I go up ten points! Can you believe it?! Isn't that amazing?
Finally, my friends, get this. Schwanzkopf's organization? The Institute for Male Regeneration? It doesn't exist either. Supposedly it is located in Zurich, Switzerland. Give me a break! Have you ever been to Zurich? Such a mess! Very boring! Nobody goes there anymore. And, besides, the Swiss are not our friends. They're stealing us blind.
I'll be totally honest with you, folks. This entire article is a scam, a joke. I'm going to sue the author just for fun. He's a clown.
And, by the way, ladies and gentlemen, just so you'll know, when erect, my dick is ten inches long — eleven on a good day. I guarantee it."
(Release of this statement authorized by Donald J. Trump. For more information, please visit www.bigdicktrump.com.)